Guernsey bus drivers may strike over rota changes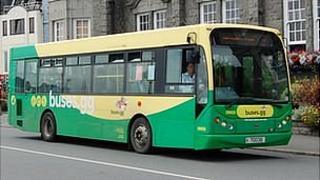 Guernsey's public bus drivers could strike on Monday due to changes to their rotas made by operator CT Plus.
The company took over the running of the island's scheduled and school bus services in March.
Bob Lanning, regional officer for union Unite, said negotiations were ongoing in the hope of resolving the issues ahead of any industrial action.
CT Plus has released a statement saying talks were taking place and it did not feel it was appropriate to comment.
'Four-day weekends'
The company said it would update the travelling public on the outcome of the talks shortly.
Deputy Barry Brehaut, a member of the Environment Department which oversees the island's bus services, said it was not involved in the talks but hoped the two parties would reach a resolution before any services were disrupted.
Mr Lanning met with drivers on Sunday evening to hear their concerns.
He said: "Drivers gets 10 minutes in the morning to sign on, check the bus over, get ready before they're out on the roads and 10 minutes when they finish to cash up the money and the new rotas have cut that by five minutes.
"This is the second time this period of time has been cut in less than 12 months.
"The second thing is that this new rota gives them far less weekends off - and bear in mind a great deal of these staff are imported from the mainland or other places.
"They're reliant on extended weekends, four-day weekends, to be able to get home to see their family."
Mr Lanning said drivers had to work 13 days without a day off to qualify for a four-day weekend.
He said: "I'm still hopeful we can avert [any strike action], it's the last thing anyone wants, I don't want any disruption to the bus service.