Guernsey sports group concern over new skate park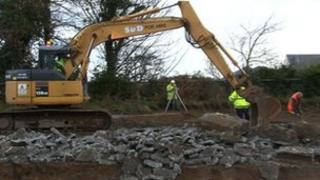 Guernsey's new skate park is too big, says the president of the Saturday football league.
Rod Hamon says the new skate park is also dangerously close to an adjacent football pitch.
Work on the facility at Beau Sejour began on Friday after 11 years of fund-raising.
The driving force behind it, Deputy Mike O'Hara, said it was bigger than he had expected.
A number of Guernsey sport organisations have said they are unhappy they were not consulted before the plans were finalised.
Mr Hamon said: "Everybody thought it was just going to be the size of the old play area. We were surprised it was put behind the goals of the football pitch.
"Any shots are goal that are going to go over the bar or wide of the goal, the youngsters there are going to get hurt."