Guernsey States agrees to tobacco licensing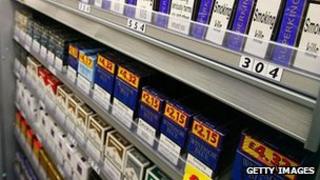 Stricter controls on the sale of tobacco, including the need for retailers to be annually licensed, will be introduced in Guernsey.
The changes are aimed at cutting the number of underage smokers and were proposed by the Health and Social Services Department.
The agreement of the States came after the original proposals were adapted after discussions with retailers.
Minister Hunter Adam said the changes were essential for youngsters' health.
However, some small retailers have suggested they may be forced out of business by the moves.
The agreed changes include giving police the power to confiscate cigarettes and "smoking paraphernalia" from under-18s in public places and restrict the display of cigarette prices.
The States also approved a phasing in of a rule ensuring only shop workers aged 18 years or over can sell tobacco.
The legislation will be drafted and is due to return to the States for final approval next year.
A previous tobacco licensing regime, introduced in 1904, was repealed in 1980 because it cost more to administer than was being raised through fees.