Guernsey's Rotary Club light tree is installed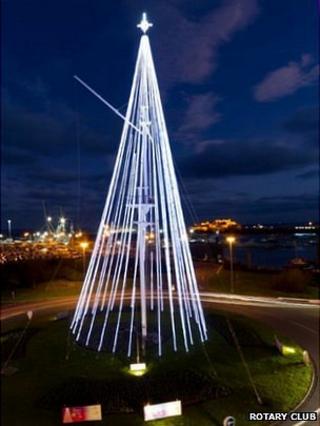 Guernsey's Rotary Club light tree, which it claims is the tallest of its kind in Europe, has been installed in St Peter Port.
It is the eighth year in a row 32 light strings have been hung from the 110ft memorial mast on the Weighbridge roundabout.
It marks the start of the Rotary Tree of Joy imitative, which provides presents for needy children.
The lights are due to be switched on at 18:00 GMT on 29 November.
John Hollis, from the club, said it worked with the authorities to identify those children who are in need of help and provided them with gifts, thanks to the help of generous islanders.
Gift tags listing the child's Christian name, gender and age and a suggested gift will be available from businesses across the island.
Mr Hollis said the scheme, which has run for 15 years, involved a very quick turnaround.
"It's a fairly short timescale... we've got just over two weeks to make sure it is all happening so timing is important," he said.
Mr Hollis described the light tree, a smaller one that will be installed outside the airport and a traditional tree outside the Town Church as "beacons of the generosity of people in Guernsey".
Explaining why the light tree is off-centre, he said: "The main mast is not in the centre of the roundabout and the flower beds aren't in the centre either so when we put the ground anchors it is quite tricky.
"We've aligning the tree, within our constrains, with the highest point of the mast so it should look broadly right."