Guernsey sewage work to close road for a month
26 August 2012

From the section

Guernsey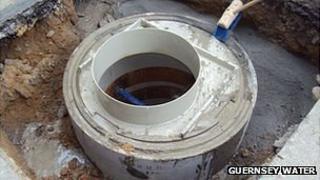 Sewage work is to force the closure of part of Guernsey's main coastal road for more than a month.
The Guernsey Water project to refurbish 13 manhole chambers is due to run from 4 September until 8 October.
It will involve the closure of Route de la Palloterie, Rue des Laurens and Route de Pleinmont, which run along the island's south coast.
Andrew Redhead, director of water services, said if the repairs did not go ahead the manholes could collapse.
He said: "The condition of these manholes has deteriorated due to them being close to one of the major cesspit-sewage emptying points.
"As the sewage from cesspits is not 'fresh', it creates a gas called hydrogen sulphide which attacks the structure of the manholes, causing them to collapse if they are not repaired in time.
"We apologise for any inconvenience that these essential works may cause."
The project follows similar work carried out in February and involves the removal of heavy concrete cover slabs and the installation of a new lining system.