Sark's gold postbox for Carl Hester Olympic dressage win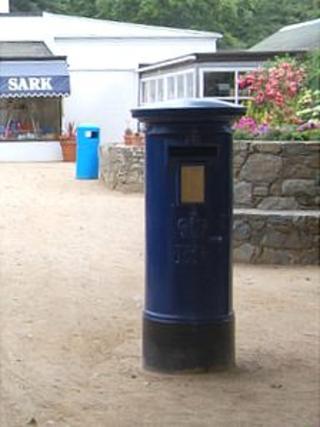 Sark's only postbox will be painted gold to celebrate Carl Hester's role in Great Britain's dressage team's gold medal.
Mr Hester, 45, was born in the Channel Island, but now lives and trains in Gloucestershire.
The Royal Mail has been celebrating every British gold medal by painting a postbox in each Olympians' hometown.
Cassandra Morris, from Guernsey Post, said the company felt it could do no less for the Sark Olympian.
Hester, Laura Bechtolsheimer and Charlotte Dujardin took first place ahead of Germany at Greenwich Park to claim GB's 20th gold medal of the 2012 Olympics.
Ms Morris said: "This is the first time that Guernsey Post has changed the colour of Sark's post box since it was painted blue in 1980, 11 years after the company became independent from the British Post Office.
"The plans for transforming Sark's post box are well underway and Guernsey Post hopes to have the postbox finished in just a few days."
Royal Mail confirmed a postbox would be painted gold in Ms Bechtolsheimer's home village of Ampney St Peter, Gloucestershire, and another in Enfield, north London, for Ms Dujardin.
Mr Hester was born in Sark in 1967 and it was in the island he developed a passion for riding.
At the age of 19 he moved to Hampshire to work at a riding school and shortly after he started to compete.
Last year he won team gold and individual silver at the European Championships and has won a total of 51 national domestic dressage titles during his career.