RentOClean win first Guernsey Gigs Battle of the Bands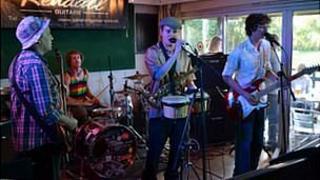 It was new reggae-punks RentOClean who won the first ever Guernsey Gigs Battle of the Bands at KGV on Saturday after a day of performances by 11 bands.
RentOClean, made up of Dan Guilbert (guitar and vocals), Brett Smeed (saxophone and vocals), Tom Erskine (bass) and Kieran Smale (drums), were playing only their third gig on the day.
Kieran said: "I'm proper stoked, we put a lot of work into doing what we do so it was nice [to win]."
Elliott Mariess, one of the organisers from the Guernsey Gigs website, said: "We decided to put the event on after the previous battle of the bands in town was cancelled because there 'wasn't enough band interest'.
"After running guernseygigs.com for just under a year now, I've seen the amazing level of talent this island has to offer, I know there's plenty of new bands out there who need that chance to get some recognition."
RentOClean's co-frontman and guitarist Dan said the Battle of the Bands had been the most fun he'd ever had gigging.
"It had a good vibe all round and after hanging out watching other bands I couldn't wait to play… the crowd were really cool too, lots of people seemed to be enjoying it," Kieran added.
The idea of a "battle" of the bands is often a controversial one, particularly within a music scene like Guernsey's, which seems at its best when cooperation is order of the day rather than competition, and several bands told me they were really only treating it as another gig and didn't care about winning or losing.
I asked RentOClean their view on this and Kieran said: "I think it's fun, it's a change, gives us another reason for playing and being there rather than just a gig.
"Saying that I put our name down to play just because I wanted to do a gig, we didn't go with the intent of winning or anything we just like making music."
"Anything that gets bands exposure is good, great to see a wide age range, and it was worthwhile for us!" added bass player Tom.
Elliott, from Guernsey Gigs, said: "The whole day went incredibly well and I'm really honoured by everyone's support and trust in us from the outset.
"Without all the upfront commitment from people like Kendall Guitars, BBC Introducing Guernsey, The Guernsey Press and the Vale Earth Fair, and the staff at the KGV and Mark Guillou giving up their time to help out, it wouldn't have been the success it was."
He said they had only planned to do it as a one-off event, but due to its success were considering holding it again last year.