Diamond Jubilee: Charles and Camilla visit Guernsey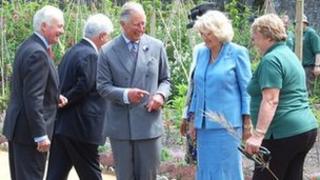 A visit by the Prince of Wales and Duchess of Cornwall to the Bailiwick of Guernsey began today.
The royal couple visited Guernsey's Saumarez Park on the first day of their two-day trip to the islands.
They met children and took a tour of the park's Victorian walled garden, before moving on to Castle Cornet.
At an affirmation of allegiance ceremony at the castle, Prince Charles said it was a "pleasure and a privilege" to visit the islands again.
Local politicians and dignitaries renewed their loyalty to Queen Elizabeth II at the ceremony.
Prince Charles thanked the Bailiff, Richard Collas, for his "kind and touching" welcome.
He said to the guests assembled at the ceremony: "The Queen has asked me to convey to you all her heartfelt gratitude."
First official trip
Rachel Merrien, 16, a host for a youth event at Saumarez park, described the Duchess of Cornwall "one of the nicest people I've ever met".
The prince and duchess also travelled by helicopter to Herm to meet the island's tenants, as well as about 40 residents.
The visit marks the first official trip to the Bailiwick of Guernsey by the Duchess of Cornwall.
Prince Charles last visited Guernsey in 2004.
The couple's visit is part of the Royal Family's Diamond Jubilee tour celebrating the Queen's 60 years on the throne.
Charles and Camilla will visit the islands of Sark and Alderney on Friday, before heading back to the UK.