Guernsey's Chaos Festival success praised by organisers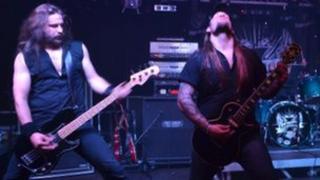 For the eighth year in a row Chaos took over Pleinmont from the 13th to 15th July as a festival was held celebrating music and motorbikes.
The Greenman MCC's annual get-together has grown in recent years into a fully fledged music festival in its own right and club member and organiser, OzyChris, said this year's event had been "fantastic".
"We had a little bit of rough weather earlier on but it's been great and everyone seems to have really enjoyed it," he said.
Chaos saw more than 50 bands, solo performers and DJs from Guernsey, Jersey, the UK and France make appearances across three stages.
Hard-indie band Lifejacket played on the second day of the festival on the Discharge Stage.
Andy Sauvage, the band's singer, said: "The set went well and we were told it sounded good by the audience, so that's what matters."
He said that Chaos had once again been a good event and it seemed to get bigger every year.
"There's definitely no other festival like it in Guernsey, you can just come up for three days and have a good time," he added.
Stace Blondel played twice over the weekend with Skid Rue and Choke and said for his bands the festival had gone really well, although admitted that "wielding sledgehammers and climbing the rig may not have gone down well with the organisers."
"It's been awesome, except it's killed my voice - I don't think I'll be singing again for a month.
"Thee Jenerators were the best I've seen them and I really enjoyed Heave… the Peace Tent has been the place to be, they should have it at every festival," he said.
As well as some established local performers there were some newcomers at Chaos this year.
One of those was Distant Shores who opened up the Discharge Stage for the weekend.
The band members said: "As a Guernsey metal band it's the pinnacle, you need to play Chaos… it was honour to open it up."
The band thought their sent went well and they had a larger audience than expected.
Bass player Joe said those people he had spoken seemed to have loved their set.
Their highlights, aside from getting the chance to play, came from some of the Jersey bands on the bill - in particular Stan Smith and Demise of Sanity.
Rounding off the weekend, OzyChris said: "I'm always amazed at how many people turn out to support us… we've had a great range of bikes and some really worthy prize winners in the bike show."
"The Roughneck Riot and Heave were amazing," he added, referring to the bands that had performed.
He said next holding the festival again in 2013 was dependent on the Greenman club voting it through.
"We've done as well as we hoped to and as long as we can pay the bills we can do it again," he added.