Guernsey waste costs likely to rise, says minister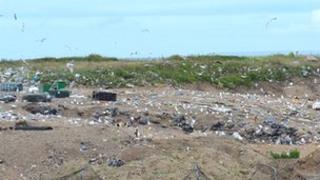 A rise in the cost of waste disposal is likely to occur in Guernsey, according to the public services minister.
Deputy Paul Luxon, who took on the role in May 2012, said a new strategy aimed at reducing the amount of waste going to landfill would see charges rise.
He said: "It is going to cost... we have to move on and play our part in terms of a sustainable planet."
A new waste strategy was presented to the island earlier in year, with an emphasis on recycling and reusing.
It suggested that any residual waste may be exported to other jurisdictions for disposal.
The States of Guernsey has twice rejected an on-island incinerator in favour of reducing, recycling and reusing items.