Woman killed in Sark carriage crash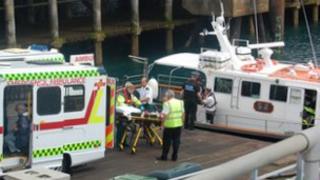 A Swiss woman has died following an accident involving a horse-drawn carriage on the Channel Island of Sark.
The woman, aged in her 60s, suffered head injuries when she was thrown into the road with seven other Swiss tourists and the driver on Tuesday.
They were touring the island when the carriage hit a hedge and rolled over.
All nine were taken to Guernsey by boat and transferred to the Princess Elizabeth Hospital. The woman later died from her injuries.
One of the other tourists also suffered a serious head injury.
Cars are banned on Sark - only tractors and horse-drawn vehicles are allowed.
Malcolm Mechem, from Guernsey Ambulance and Rescue, said: "[People were] wounded with grazes, minor cuts, dislocations and fractures so it was quite bad."
Guernsey Police and an accident investigator are assisting Sark constables with the investigation. Anybody with information is urged to contact the police.