Museum wants new gates for Guernsey's Vale Castle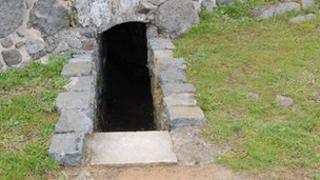 Guernsey's museums service wants to make it possible to seal off access to the Vale Castle.
There are three points of access into the site - a main entrance, a small tunnel to the east and another door to the west - none of which can be closed.
Plans to host theatrical performances at the castle have prompted the move.
Historic Sites Curator Helen Glencross said production companies needed to "keep all their equipment and staging safe and not have to have security".
The museums service plans to install a steel box-frame, onto which a wooden door can be fixed in place during theatrical runs or during the build-up to the annual Vale Earth Fair, which will be held on 26 August.
'Really excited'
The Vale Castle is set to host productions of King Lear, from 30 July to 1 August, and Julius Caesar, from 10 to 19 August, after Castle Cornet became unavailable.
Stage sets are usually lifted into the St Peter Port site by crane but the bridge which allows access has been deemed unsafe for such a heavy load.
However, Mrs Glencross said the production companies were far from disappointed by the switch.
"We actually brought part of the Oddsocks team up to the Vale Castle last summer," she said, "and they were really excited about this as a new venue for the performances."