Boys in dinghy off Guernsey found safe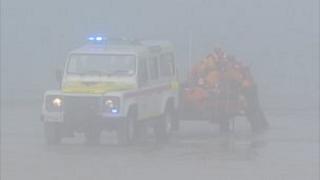 An air and sea search for two boys in a dinghy off Guernsey's Pembroke Bay was called off after it emerged the boys had gone home.
The deputy harbour master said a member of the public raised the alarm at about 14:45 BST after an inflatable was seen about 400m out to sea.
The teenagers were actually safe at home and contacted police.
The lifeboat, two inshore rescue boats, Channel Islands Air Search and police were involved in the search.
It was hampered by low mist and fog covering the bay and nearby area.
Capt Peter Gill, Guernsey's harbour master, said: "Visibility was down to only 10 metres in places so it was very, very easy to miss somebody."
He said: "Following our request to the media for people who had been out in a dinghy up in the L'Ancresse area to come forward and just confirm they were safely ashore we have had such a person who has done just that.
"The correlation between their description of the dinghy and that which we were looking for were sufficiently close it's made us happy we've found the right people."
He added: "It's really good people do keep a look out for the safety of others... it's what you'd call a successful outcome."