Guernsey's Bailiff to take part in Jubilee pageant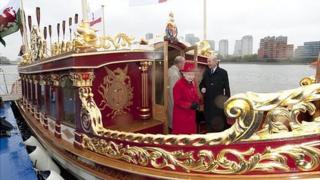 Guernsey's Bailiff will take part in the Diamond Jubilee Pageant on the Thames on Sunday.
Richard Collas, the island's chief judge and presiding officer of the States, has been invited to represent the people of Guernsey.
He said: "I'll be on a boat in the same part of the procession as Her Majesty and other members of the Royal Family.
"I am feeling both privileged and excited to be part of what promises to be a magnificent event."
Mr Collas will be on a boat that normally carries tourists up and down the river and he said it was important the Crown Dependency, with its maritime history and with links to the crown since 1204, was represented at such an historic occasion.
He said security was unsurprisingly tight and when he was invited he only had 24 hours within which to respond although it "didn't take me that long to decide I was going to go".
Mr Collas said: "I'm hoping to get a good view of all the different kinds of boats that will take part in the pageant, including Guernsey's marine ambulance the Flying Christine III."
Guernsey's marine ambulance service, one of only two in the British Isles, is celebrating its 60th anniversary this year and is not only representing the island, but also St John Ambulance and Rescue Service nationally and the wider ambulance services.
The Bailiwick will also be represented on the new lifeboat Diamond Jubilee by the Alderney Lifeboat coxswain Declan Gaudion.
The islands will be represented at the National Service of Thanksgiving in St Paul's Cathedral on Tuesday by the Lieutenant Governor Air Marshal Peter Walker and his wife Linda.