Guernsey Housing Association secures £30m funding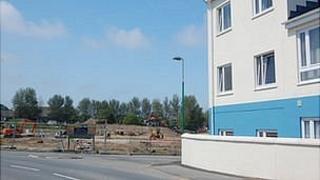 Funds needed for three social housing developments has been secured by the Guernsey Housing Association (GHA).
The association has secured a loan of £30m to complete projects at the Grand Bouet, in St Peter Port, and extra-care housing in the Vale and St Martin.
The association has undertaken the projects on behalf of the Housing Department, which as part of the States is not allowed to borrow money.
A total of 193 houses and apartments will be built under the schemes.
Waiting lists
Housing Minister Dave Jones said: "Without the GHA being able to secure private borrowing, the full cost of delivering new social housing would fall on the States.
"Given the pressures on States' finances, this would inevitably mean that less social housing could be built and waiting lists would be longer.
"So the importance of the GHA securing this additional private finance cannot be underestimated."
The redevelopment of the Grand Bouet Estate is due to be completed in 2013 and the first residents are expected to move into the new extra care housing at Maison Maritaine and Longue Rue in 2014.