Guernsey deputies support removal of 'eyesore' hotel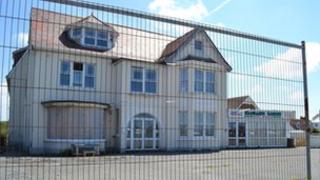 Three deputies for Guernsey's Castel parish have welcomed plans to demolish a disused hotel on its west coast.
Carterets Developments Limited has applied to erect a block of 12 three-storey apartments on the site of the former Hotel Les Carterets at Cobo.
Deputy Sandra James said: "It's been an absolute eyesore at Cobo for too long."
Deputies Jonathan Le Tocq and Hunter Adam said they were happy to see the hotel building go, although the former expressed caution about the new build.
Referring to the size of the proposed development, Deputy Le Tocq said: "It's not ideal but it is better than what we've got.
"We can't leave eyesores like that undeveloped just because we don't like what developers might like to be doing there," he said.
Deputy Adam said the site needed redevelopment.
"The hotel needs knocking down. I agree with that completely," he said.
The spokesman appointed by the developers was unavailable for comment.
Planners at the Environment Department will vote on the proposals at an open meeting.
However a spokesperson for the department was unable to identify the date on which that meeting would take place.