Rescue of two men in Guernsey sparked by high tide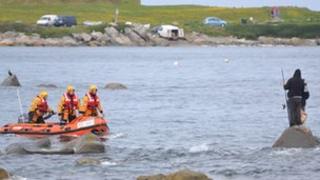 Two men were rescued from Guernsey's north-west coast after being trapped by the high tide.
The pair, believed to have been fishing, became stranded on rocks near Ladies Bay at about 09:30 BST.
A member of the public alerted the coastguard, after which the Ambulance and Rescue inshore lifeboat was launched and the men returned to land.
Jason Garnham, coxswain on the boat, said he thought the pair had been stranded for several hours.