St Peter Port constable deems town scaffolding 'ugly'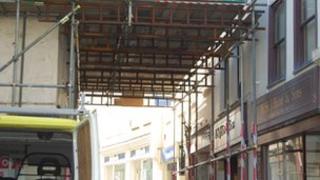 Scaffolding left standing in the streets of St Peter Port, after the deadline for its removal, has been described as ugly by a parish official.
Rules stating that it must come down by 1 May used to be enforced by the parish constables, but are now policed by Guernsey's Environment Department.
Constable Dennis Le Moignan said: "It looks terrible for the visitor season."
A department spokesman said the scaffolding that remained in place was there "for valid reasons".
He said those included long-term renovation projects and essential work.
The spokesman said applicants had to supply evidence of the need for the work in order to be allowed to have the scaffolding up between 1 May and 15 September each year.
He said there were also times when projects overran due to weather or unforeseen circumstances. However, the department was committed to ensuring the scaffolding was removed as soon as possible.