Guernsey chief minister candidates questioned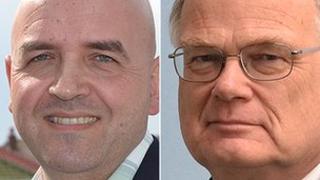 Members of the public have been invited to attend a question-and-answer session for candidates bidding for the position of Guernsey's chief minister.
However, islanders will not be able to question the candidates themselves.
Deputy-Elect Jonathan Le Tocq and Deputy-Elect Peter Harwood will however, be questioned by those newly-elected to the States.
The meeting is due to be held on Monday at the Grammar School, in St Peter Port.
Deputy-Elect Le Tocq is currently the only candidate eligible to stand for the position, as to qualify candidates have to have served four of the last eight years in the States.
Ahead of the election on 1 May, States members will debate a motion to remove the need for someone to have previous experience if they are to serve as chief minister.
Deputy-Elect Peter Harwood has said he would stand for the office if States members agree to the change.
The only other eligible candidate, Deputy Lyndon Trott, announced the withdrawal of his nomination on Wednesday, but a day later did not rule out re-standing if the rules were changed.
Monday's meeting starts at 1900 BST and is due to last two hours.