Peter Harwood nominated for Guernsey chief minister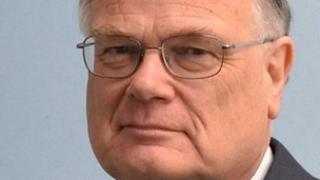 Deputy-Elect Peter Harwood has been nominated for the post of chief minister, even though he does not qualify to serve in the post.
The move follows calls for changes to the rule that means those in the top job have to have served four of the last eight years in the States.
A motion to modify or suspend the rules could be put before the newly elected States when it is sworn in on 1 May.
Deputy-Elect Harwood said he would represent a clean slate in the States.
He said he has the support of a number of those in the new assembly and the States should not be bound by decisions made by those who came before.
Deputy-Elect Harwood topped the polls in St Peter Port South last week after standing as a first time candidate, having retired as an advocate and as chairman of the Guernsey Financial Services Commission.
He was also the chairman of a review into the machinery of the island's government, which was used as a basis for the departmental system that was brought in during 2004.
The Bailiff's office has not accepted his nomination alongside the other two candidates, Deputy-Elect Jonathan Le Tocq and Deputy Lyndon Trott, as he is not eligible.
Although if the rules are changed retrospectively he could be considered as a candidate for the position.
Deputy-Elect Harwood was proposed by Deputy Matt Fallaize and seconded by Deputy-Elect Paul Luxon.