Guernsey jumpers to be sold around world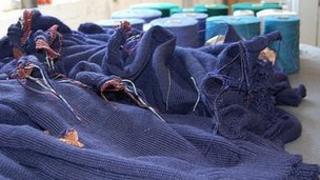 Jumpers designed for fishermen in Guernsey in the 17th Century are to go on sale around the world.
Guernsey Woollens has been made "a friend of Fred Perry", the clothing label.
The company signed a deal that will see the blue garments, known as Guernseys, sold in 90 Fred Perry stores.
Guernseys are traditionally navy blue and made from a specially coated worsted wool which makes them not only warm, but waterproof.
The worsted wool is twisted to make it stronger than regular wool, which helps to give the jumper its sturdy character.
'Huge accolade'
All traditional Guernseys are made to the same pattern with a square neck, making them reversible, and patterning at the shoulders which in the past were often specific to a parish or family.
One reason for this was to help identify the bodies of fisherman lost at sea when they were washed ashore.
Guernsey Woollens has been producing the distinctive jumpers for more than 30 years.
Co-owner Athur Eldridge said he hoped the new deal would help the business to expand.
He said: "Previously we provided Fred Perry with 1,000 garments in 2010, which meant they had their label in.
"Now our garments will be sold under our label - it's a huge accolade."