Full Tilt report exonerates Alderney gambling regulator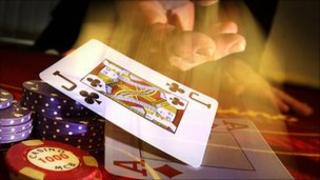 A report into the Alderney gambling regulator's handling of the besieged Full Tilt Poker website has found it was "appropriate, timely and fair".
Its author, Peter Dean, said the episode was "an example of regulation working as it should".
He said the Alderney Gambling Control Commission had "conducted the 'fit and proper' tests with appropriate rigour".
The commission revoked the online firm's licence in September after claims of financial fraud.
US authorities accused the company of defrauding online poker players out of $440m (£289m) and giving misleading statements about the extent of its funds.
'Prompt and proportionate'
World-class poker player and industry commentator Antanas Guoga, known as Tony G, accused the commission of failing to protect players.
However Mr Dean said: "As soon as plausible evidence of irregularities came to light, the regulator acted promptly and proportionately."
"An investigation was instituted, findings made, a hearing held, judgment delivered and sanctions imposed," he said.
"Due process was followed."
He added: "A regulatory inspection is not designed to uncover fraud, but is an operational process review.
"It will not necessarily be proof against deliberate concealment or deception, any more than will the regular annual audit of a company's financial accounts."
However, Mr Dean recommended in the independent report that "external solicitors familiar with gambling regulation" should, in future be employed "to supplement the assistance available from the Law Officers of the Crown in Guernsey".
This, he said, would act as a "safety-valve".
Andre Wilsenach, the commission's executive director, said: "Our focus now is to assist other authorities to recover as much of the players' funds as possible."
"In addition, the commission is already in advanced stages of implementing a new approach towards the protection of player funds on a risk-assessed basis."