Guernsey stopping landfill 'will hurt gull population'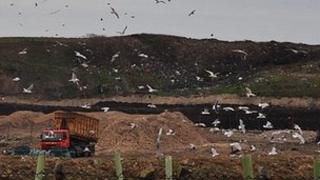 The planned closure of Mont Cuet landfill site could have a devastating impact on Guernsey's gull population, according to a conservation group.
Paul Veron, from La Societe Guernesiaise, said the birds had relied heavily on the tip as a source of food for the past 40 years.
He said monitoring had shown the population was already in decline.
Mr Veron said what was currently a common bird in the island could become a rare sight.
He said: "If we don't get youngsters recruiting into that population, and that's our worry at the moment, then gradually over time we're going to see that population dropping and dropping until gulls are actually a rather unusual sight."
Last month the States agreed to explore the idea of exporting waste off the island as a future alternative to landfill, which is expected to last at the current site until 2022.