Disused GT Cars site plans go to Guernsey public
17 February 2012

From the section

Guernsey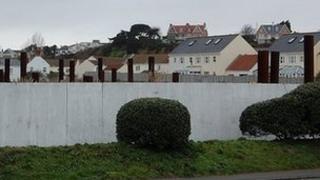 Guernsey residents have been asked for their opinion on what should happen to a former garage site that has been unused for nearly 20 years.
The Environment Department has approved a draft development brief for the former GT Cars and Priaulx Quarry site on Les Bas Courtils.
The quarry was used as an unofficial landfill to dispose of waste including vehicles and contaminated soil.
Pollution in the soil has to be removed before the site can be developed.
Redevelopment of the 4.41 vergees (7,233m sq) site did start in 1991 but was not completed and the site was left as it can still be seen being dominated by steel piles driven into the ground.
Environment Minister Peter Sirett said: "There has long been a need to breathe some life into this site.
"The ground conditions are complicated and may limit the nature of possible development.
"Working with the site owners we are confident that this unused, unattractive area can be developed to make a positive contribution to Guernsey's environment and economy."
Copies of the Draft Development Brief are available from Sir Charles Frossard House or on the States of Guernsey website and comments have to be submitted by 17:00 GMT on 16 March.