Guernsey deputies challenged to swim in 'sewage sea'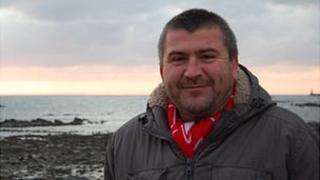 A Guernseyman has challenged island politicians to swim in the water together at Belle Greve Bay to prove the water is safe.
Phil Cox has concerns that pumping raw sewage into the sea in the bay affects the island's image and if it does not change people will holiday elsewhere.
He said he had seen things floating in the water and thought sewage treatment needed to be pursued.
So far four deputies have accepted his challenge, while 11 have declined.
The four who have agreed so far are Deputy Mike Collins, Deputy Andrew Le Lievre, Deputy Barry Paint and Deputy Robert Sillars.
Mr Cox has called his challenge Politicians Outsmart Outfall Protesters - or Poop for short - as he thinks deputies need to do something to counter campaigning done by the UK-based group Surfers Against Sewage.
It has campaigned against a proposal going to the States next week to approve a report that found the island does not need to implement full sewage treatment.
Mr Cox said the swim would take place in a few month's time.