New Guernsey slaughterhouse 'may cost £2m'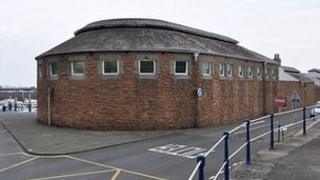 A total of £2m could be spent on replacing Guernsey's slaughterhouse.
The States of Guernsey will be asked to approve the plans to replace the abbatoir on the Castle Emplacement in St Peter Port at its March meeting.
The current building has served as a slaughterhouse for about 150 years and officials said it would be impossible to refurbish to modern standards.
The new abbatoir could be built at Longue Hougue, next to the carcass incinerator.
The Commerce and Employment Department said the current building needed to be replaced as converting or refurbishing it to modern standards was not possible.
In 2009, the current building was reviewed by Environmental Health, which advised it should close by April 2012.
However, the Commerce and Employment Department said that with a "clear decision" to build a new slaughterhouse, the existing abbatoir would be able to operate until the new unit was commissioned.
It said the new slaughterhouse would allow for an increase in the amount of locally-produced beef and potentially expand the beef, sheep and pig sectors.
The department has suggested the States approve a tender from Harbour View Construction Limited for the work, which it said it hoped would be running by early-2013.