Airline Blue Islands starts a new Bournemouth route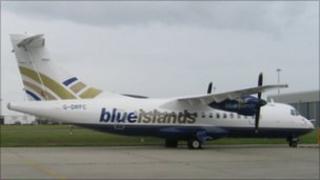 Airline Blue Islands has announced it will begin a new Channel Islands to Bournemouth route in November 2011.
The airline stopped operating flights to the town in April 2009, after cutting its service from Alderney.
The news came a week after Blue Islands revealed it would start flying from the islands to Manchester in October 2011.
Rob Veron, managing director of Blue Islands, said the route would be particularly beneficial to islanders studying at south coast universities.
He told BBC News: "I'm delighted that we now have the available aircraft to return to Bournemouth."
Rob Goldsmith, managing director of Bournemouth Airport, said: "Flights between Bournemouth and the Channel Islands have always been popular."
Flights will run on Tuesdays, Thursdays and Saturdays from 1 November.
The return journey will start and end in Guernsey, and will fly via Jersey.
Blue Islands is based in Guernsey, and currently flies between the Channel Islands, the UK and Switzerland.