Guernsey Red Arrows display cancelled due to weather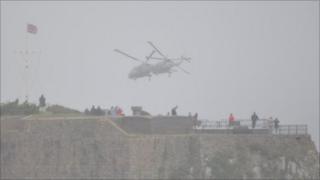 Guernsey's annual Battle of Britain air display has been severely disrupted by poor visibility.
Only one of the 12 planned displays went ahead with the Royal Navy's Helicopter Display Team, the Black Cats, performing for the crowds.
A T28 Fennec carried out low flypasts to carry out a weather check but was unable to perform its display routine.
The Red Arrows, The Blades, Brietling Wingwalkers and a Skyraider aircraft were among those unable to take part.
Those gathered along the island's east coast also observed a minute's silence for all RAF pilots who lost their lives serving their country, including Red Arrows pilot Flt Lt Jon Egging who died last month.
David Chan, a former RAF pilot, said: "The Red Arrows are the Battle of Britain Air Display in many respects, alongside the Lancaster, Spitfire and Hurricane.
"For the public to miss out is a huge blow, but it's important the message of the day and hopefully it won't stop people donating to the various charities."