Grand Bouet plans aim for 'community feel'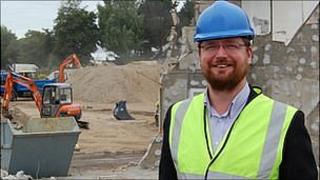 The Guernsey architects behind plans for Le Grand Bouet housing redevelopment aim to encourage a strong sense of community among residents.
An application has been put forward for 60 houses, a mix of two and three bedrooms, and 20 one-bedroom flats on La Route de La Nouvelle.
A basketball court and fitness equipment are also part of the design.
Lovell Ozanne architects said the aim was to encourage people of all ages to socialise with each other.
Architect Olly Brock said there would be three significant outdoor areas and fitness equipment and children's playground items dotted around the site.
He said: "People will have their own private space and it's important to give people a sense of ownership of the public space as well.
'Pretty depressing'
"You can go too far with private space and seclusion and actually make it so people separate themselves from public space and don't look after it and don't feel that they own it.
"That's possibly the mix that was lacking probably in the earlier development that has been demolished."
Housing Minister Dave Jones said: "This was a pretty depressing area with pretty depressing social problems at the time and I've waited all my political life to see the back of this estate.
"The social mix is hugely important here, we're not going to recreate the mistakes of the past by putting one social mix in house after house with all the same problems that go with it.
"This is very much a mixture of partial ownership, GHA [Guernsey Housing Association] rental and social rental."
A decision on the plans is not expected until October to allow time for the public to comment on the proposals.
If approved, building could start as early as March 2012 with the work expected to take about 18 months.