Animal welfare petition handed to States of Guernsey
26 January 2011

From the section

Guernsey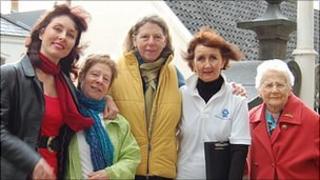 Guernsey's chief minister has received a petition signed by about 6,000 people, calling for better protection of animals in the island.
Members of the animal rights group Promoting Animal Welfare (Paw) gathered at the steps of the Royal Court ahead of the first States meeting of 2011.
The group formed last year in protest against the current animal welfare legislation.
They hope the show of support will force the States to make changes.
The Commerce and Employment department announced in December that it was drafting a new animal welfare ordinance, but Paw said the new proposals were not adequate and more consultation was needed.
Vivienne Ferneyhough, one of the campaigners, said the group wanted the States to bring in stricter rules surrounding animal care and to put a stop to the practice of tethering in the island.
She said: "The issue of tethering dairy cattle all year round outside, tied up with chains or ropes, quite often without access to shelter... it's an outdated practice, which is very rarely practised now and in fact I think we're one of the last strongholds for it."
The Guernsey Farmers' Association said the practice was not widespread and it encouraged farmers not to tether their animals where possible.