Who will be France's president in 2017?
7 December 2016

From the section

Europe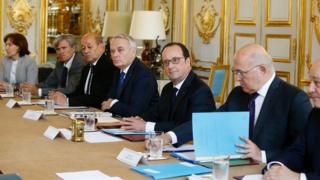 Dozens of candidates are vying for the attention of French voters ahead of the presidential election on 23 April 2017.
If none wins an outright majority, there will be a run-off vote between the two leading candidates two weeks later on 7 May.
The centre-right Republicans have chosen Francois Fillon as their candidate, and opinion polls give him a lead of several percentage points over Marine Le Pen of the far-right National Front (FN).
Manuel Valls leads the field of Socialists and other leftists competing to win the centre-left nomination in a primary vote in January.
Other potentially weighty contenders, according to the polls, include centrists Emmanuel Macron and Francois Bayrou (though Mr Bayrou has not yet declared), and radical leftist Jean-Luc Melenchon.
President Francois Hollande, a Socialist, is not seeking a second term. Polls suggest he is very unpopular.
All candidates need to be approved by the Constitutional Council. But we can already identify the frontrunners.
---
Francois Fillon, The Republicans
Mr Fillon, 62, was very much overshadowed by then-President Nicolas Sarkozy when he served as prime minister in 2007-2012.
His success at winning the centre-right candidacy - and Mr Sarkozy's shock defeat - followed strong performances in the three TV debates, in which he projected a calm, statesman-like image, said analysts. He was a lesser-known quantity than his controversy-dogged rivals Mr Sarkozy and Alain Juppe, giving him an advantage.
Mr Fillon is not especially charismatic but is doing well now because "French conservatives have shifted to the right, they want someone who is more neoliberal and tougher on identity politics", Prof Philippe Marliere, who teaches French politics at University College, London, told the BBC.
His radical plans for economic belt-tightening include cutting half a million public sector jobs, scrapping the 35-hour work week and remove the wealth tax (ISF), prompting comparisons to the late British prime minister Margaret Thatcher.
He wants to strip jihadists returning from the wars in Iraq or Syria of their French nationality and require parents in receipt of social allowances agree to a "parental responsibility contract", to tackle children's absenteeism or behaviour "disrespectful of the values of the [French] republic".
On foreign policy, Mr Fillon wants to engage with Russia by lifting the EU sanctions and help Syrian President Bashar al-Assad to defeat so-called Islamic State (IS).
Mr Fillon studied law and has a Welsh wife, Penelope Clarke, whom he married in 1980 in Llanover, near Abergavenny. They have five children and their home is a 12th-Century manor house near Le Mans in western France.
France's Francois Fillon under fire over women's rights
Francois Fillon mixes French sang-froid and radicalism
---
Manuel Valls, Socialist Party
This tough-talking moderniser wants to be the centre-left's choice to take on Mr Fillon and Ms Le Pen. For that he must win the centre-left primary next month.
Opinion polls suggest that, with the French left in disarray and Mr Valls only marginally more popular than his unloved former boss, President Hollande, he will struggle to keep the Socialists in the Elysee Palace.
Mr Valls, who resigned as prime minister when he announced his candidacy, has spearheaded divisive economic reforms. His drive to loosen labour regulations triggered months of sometimes violent protest, and his failed attempt to strip dual-nationality terrorists of their French citizenship angered many in his own party.
He provided a unifying voice following attacks by Islamist extremists in January 2015, but was also blamed by some for failing to prevent subsequent deadly attacks - and was booed by crowds in Nice following July's attack.
Mr Valls was born in Barcelona in 1962 to a Spanish father and Swiss-Italian mother. He moved to France as a teenager and began a political career as a parliamentary researcher.
In 2001 he became mayor of Evry, a deprived suburb of Paris, and he was appointed prime minister in March 2014.
He has four children from his first marriage, and married a concert violinist in 2010.
Attack on Nice: Why the French PM was booed
Hollande's move 'relief' for Socialists
---
Marine Le Pen, National Front (FN)
Marine Le Pen has striven to detoxify the image of the National Front (FN) since taking over its leadership from her father in January 2011. The last time it was tested electorally - in regional elections in late 2015 - it came top in the first round. But it failed to win any region in the second round after the two main parties collaborated and voters used their ballots tactically to keep the party out.
Despite that defeat, the party still gained hundreds of regional councillors across France, and Ms Le Pen used the result as a springboard for the presidential campaign. Polls now regularly place her second.
The FN has yet to publish its election manifesto, but its 2012 proposals included slashing legal immigration from 200,000 to 10,000 entries per year, deporting illegal immigrants, prioritising French citizens for jobs and housing, exiting the EU and euro, upping police numbers and powers and creating 40,000 new prison places.
The youngest of Jean-Marie Le Pen's three daughters, she was steeped in politics from a young age. She trained as a lawyer and went on to become head of the FN's legal department.
After years of fighting and losing French parliamentary elections, she was elected to the European Parliament in 2004 and remains an MEP, representing North-West France.
After taking over leadership from her father in 2011, she distanced herself from him politically. She denounced him for suggesting that the Nazi gas chambers were "a detail of history". She came third in presidential polls in 2012.
Marine Le Pen is twice divorced with three children, and lives in the western suburbs of Paris.
Marine Le Pen: Trump win boosts my chances
Taking French National Front to new highs and lows
---
Emmanuel Macron, En Marche (Onwards)
A brilliant student who went on to become an investment banker, Emmanuel Macron worked as economic adviser to President Francois Hollande before taking up the post of economy minister in 2014. He has never been elected an MP - and has never even stood for election.
And at 38, he is among the youngest candidates.
He forged a reputation with his "Macron Law", a controversial reform bill that allowed shops to open more often on Sundays and deregulated some sectors of industry.
The law was forced through by Prime Minister Manuel Valls despite strong left-wing opposition. But for much of France's business community Mr Macron became a breath of fresh air, with a list of pro-business policies aimed at boosting economic growth. He has championed digital start-ups and prompted a long-distance bus market.
For years a protege of President Hollande, his position in government became increasingly awkward in April 2016 when he set up En Marche, which he describes as "neither left nor right" and now counts almost 97,000 people as followers. He resigned on 30 August in order to launch his presidential bid.
Announcing his candidacy, Mr Macron described France as "blocked by corporatism" (large interest groups). "I want to free the energy of the able while protecting the weakest," he said. He is an economic liberal and pro-business, who has backed ending France's 35-hour week for younger workers, but is on the left on social issues. He has backed deregulation in certain French industries and greater checks on politicians' powers.
Mr Macron is married to his former French teacher Brigitte Trogneux, 20 years his senior, and has seven step-grandchildren.
Emmanuel Macron: France's ambitious man 'on the move'
France's Macron joins presidential race to 'unblock France'
---
Jean-Luc Melenchon, Parti de Gauche (Left Party)
With the centre-left experiencing a meltdown in popular support, firebrand Jean-Luc Melenchon senses a possible opening in the race.
Last month, he received the backing of France's Communist Party for his candidacy, giving him extra organisational muscle and resources.
Mr Melenchon says the means of production, trade and consumption must be changed, and cites climate change as one of his concerns.
He said: "This is a tremendous opportunity to loose the bonds that paralyse us today."
The former supporter of European federalism now calls for France to leave European treaties, saying the EU's economic liberalism has sapped its ability to deliver democratic change.
He left the Socialist Party in November 2008 to found the Left Party with French deputy Marc Dolez. He joined the Left Front electoral federation and got elected to the European Parliament in 2009, where he still serves.
Mr Melenchon made an unsuccessful bid for the French presidency in 2012. He received 11% of the votes, putting him in fourth place.
Jean-Luc Melenchon announces 2017 France presidency bid
---
Others to watch:
The Socialist former Economy Minister Arnaud Montebourg and former Education Minister Benoit Hamon will try their luck in the centre-left primary.
Green candidate Yannick Jadot, Debout La France's Nicolas Dupont-Aignan, Lutte Ouvriere's Nathalie Arthaud and trade union leader Philippe Poutou are among dozens of other candidates hoping to become president.