Paris WW2 plaque to be restored on 'house of shame'
3 September 2014

From the section

Europe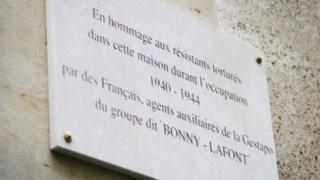 The owners of one the most infamous buildings in Paris have been ordered to put back a commemorative plaque recalling the role of the "French Gestapo" in World War Two.
Number 93 rue Lauriston, in the expensive 16th arrondissement (district), was the headquarters of the so-called Carlingue, a French organisation that worked alongside the German secret police.
An unknown number of Resistance members were tortured or murdered in the building between 1940 and 1944. The plaque honoured their memory and specifically named "French auxiliary agents of the Gestapo" as those responsible.
However, the original plaque was taken down in a renovation over the summer.
Today, a new plaque simply pays "homage to the heroes of the Resistance" - with no reference to what happened inside or to the French perpetrators of the abuse.
'Blatant breach'
Following a complaint from neighbours, Paris City Hall has said the new plaque is illegal and must be replaced with one bearing the original wording.
"We heard about this a few weeks ago. First of all there was no plaque at all on the wall. Then when we made a fuss they put up this very general inscription about the heroes of the Resistance," a spokesperson told the BBC.
"It is a blatant breach of planning rules. The building owners have a duty to put back the original plaque or make a new one with an identical inscription. They have a month and after that we shall take them to court.
"This is about the respect and recognition due to men who suffered the most appalling abuse and who died on this spot.
"Given that it was our French fellow-citizens who inflicted the abuse, for the sake of history it is imperative that the plaque be put back as soon as possible," the spokesperson said.
The renovated building contains offices which appear to be still unoccupied. The property company that owns the building has not answered questions about the plaque.
The Carlingue was set up shortly after the German occupation of Paris in June 1940. It is sometimes referred to as the Bonny-Lafont group, after its two most prominent members.
Pierre Bonny was a former policeman who had been sacked from the force in 1935, and Henri Lafont was a petty criminal.
During the war, they worked in close collaboration with the Gestapo, torturing suspects for information and extorting money and jewels. In 1944, both men were arrested and executed by France's new government.
It is not the first time efforts have been made to erase the shameful memory of 93 rue Lauriston.
In 2009, some local politicians tried to get the number changed from 93 to 91-bis.
At the time the building was occupied by the Franco-Arab Chamber of Commerce, whose head - former Foreign Minister Herve de Charette - said: "The history of the address was automatically an embarrassment."
But the bid to change the number failed, and the Franco-Arab Chamber of Commerce has since moved.