Italy PM Matteo Renzi says EU needs to keep UK
2 July 2014

From the section

Europe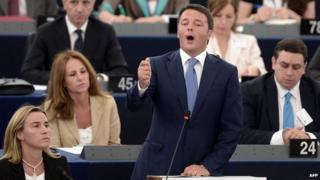 Italy's Prime Minister Matteo Renzi has urged the EU to keep the UK in, warning that a British withdrawal would mean a poorer Europe.
"A Europe without the United Kingdom would not simply be a less rich Europe, it would be less Europe, less itself," he told the European Parliament.
Italy will be steering EU meetings for the next six months.
Mr Renzi, a centre-left leader, echoed a recent EU summit pledge to address British concerns about EU reform.
The UK government has urged bold, far-reaching reform of the EU, especially to make the single market work better. The UK wants Europe to focus more on innovation, services and the digital economy to become more globally competitive.
Earlier this week Germany's Finance Minister, Wolfgang Schaeuble, also voiced strong support for the UK remaining in the EU.
'Bored selfie'
The EU summit conclusions on 27 June said that "the UK raised some concerns related to the future development of the EU. These concerns will need to be addressed."
The EU leaders also "noted that the concept of ever closer union allows for different paths of integration for different countries, allowing those that want to deepen integration to move ahead, while respecting the wish of those who do not want to deepen any further".
UK Prime Minister David Cameron wants to renegotiate Britain's relations with the EU if re-elected next year, to repatriate significant powers from Brussels, before holding an in/out referendum on EU membership in 2017.
Unlike the Eurosceptic surge in much of the rest of Europe, in Italy Mr Renzi's Democratic Party (PD) won convincingly in the May European elections.
He took over the PD in February, ousting then Prime Minister Enrico Letta. At 39 he is one of the EU's youngest leaders and was previously mayor of Florence - so still not a member of parliament.
He told MEPs that the EU must build a "smart" Europe, embracing new technologies and renewable energy, and focus on the growth part of the Stability and Growth Pact. "Europe can't be just a little point on Google Maps," he warned.
If Europe were to take a selfie today the photo would show "a face that was tired, resigned in some cases... a bored selfie", he said in his opening words to MEPs.
Mr Renzi wants a decisive shift away from austerity in Europe, to help ease the jobs crisis and stimulate growth. Italy's economy is struggling under a public debt mountain expected to reach 135% of national output (GDP) this year.