Ireland considers inquiry into children's mass grave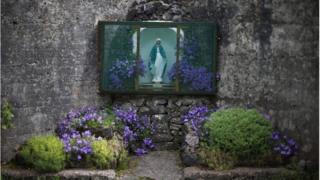 The Irish government is considering an inquiry after the remains of several children were discovered at a former home for unmarried mothers.
The remains were interred in a concrete tank in the grounds of the home, run by the Catholic Church, in Tuam, County Galway.
Almost 800 children, aged between two days and nine years, died at the home between 1925 and 1961.
The grave was found nearly 40 years ago, but the remains were initially believed to be from the 1850s famine.
However, local historian Catherine Corless found that the register of deaths and burials in the town did not match.
"I went to the births, deaths, marriages registration office in Galway and I asked them would they have records of the children who died at the home," she told the BBC.
"When she came back to me, she said, 'We have the records... but there's quite a number.'"
"I was staggered and I was shocked because there's a total number of 796 babies, children and toddlers buried in one mass grave there on that site."
Funds are now being raised to erect a permanent memorial to the dead children.
'Shocking revelations'
Ireland's Catholic Church has recently been affected by a series of allegations of abuse and neglect of children who were in its care.
"Many of the revelations are deeply disturbing and a shocking reminder of a darker past in Ireland when our children were not cherished as they should have been," said Children's Minister Charlie Flanagan.
"I am particularly mindful of the relatives of those involved and of local communities."
The Tuam home was one of 10 institutions in which about 35,000 unmarried pregnant women - so-called fallen women - are thought to have been sent.
County Galway death records showed that most of the children buried in the unmarked grave had died of sickness or disease.