Alan Shatter: Sinn Féin say sack Irish justice minister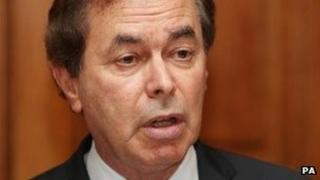 The Sinn Féin deputy leader has called for Irish justice minister to be relieved of his duties.
Pressure has increased on Alan Shatter over his handling of allegations that the Republic's police ombudsman's offices were bugged.
A retired High Court judge is to be appointed to examine the allegations.
Mr Shatter has also come under pressure in recent months about allegations that some police routinely cancelled motorists' penalty points.
Sinn Féin's Mary Lou McDonald said Mr Shatter could not be trusted to set the terms of reference of the terms of the review into the bugging.
She has called on Taoiseach (prime minister) Enda Kenny to relieve the justice minister of his duties.
Mr Shatter is due to appear before a joint committee on Wednesday afternoon to discuss the bugging allegations.
The claims arose when British security experts were called in last year to carry out a sweep of the ombudsman commission's office in Dublin.