Storms: Man killed restoring lines as thousands without power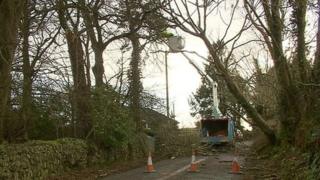 A man has been killed while working to restore storm-damaged telephone lines in the Republic of Ireland.
The incident happened at about 14:00 GMT on Saturday at Glengarriff in west Cork. The man was pronounced dead at the scene.
He has been named as Michael O'Riordan, 65, from Skibbereen, County Cork. He was married with three children.
Health and safety inspectors are due to carry out an inspection at the scene of the fatality on Sunday.
Mr O'Riordan's was working for KN Network Services, a company that was helping to restore damaged telephone lines for the Irish telecommunications firm, Eircom.
It is believed that he was struck on the head by a telegraph pole that fell down as the workers were trying to re-instate it.
Mr O'Riordan's employer has extended its sympathies to his family.
It comes as about 25,000 homes in the Republic of Ireland remain without power after Wednesday's storm.
The power cuts are mainly affecting the south and west of the country. Up to 60 engineers from Northern Ireland Electricity are assisting.
Eircom said about 30,000 customers are still without telephone or broadband services.
The National Co-ordination Group met on Saturday morning to review the situation.
More than 260,000 customers were without power at one point on Wednesday after the storm battered large parts of the country.
Meanwhile, rising water levels caused extensive flooding around parts of south Galway on Saturday.