Why Spain's Princess Cristina is in court
6 February 2014

From the section

Europe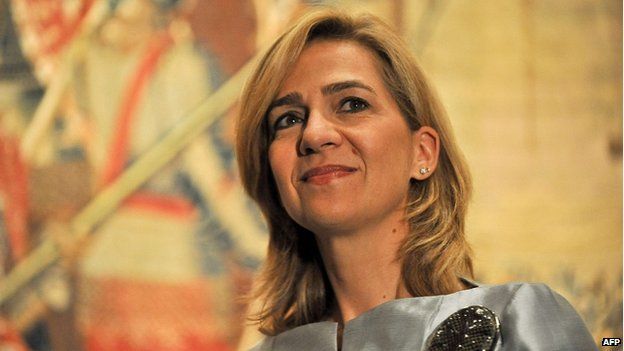 For the first time in Spanish history, a member of the royal family has appeared in court to be questioned in a major corruption scandal.
Princess Cristina, youngest daughter of King Juan Carlos, is being investigated in a long-running and highly publicised case that has damaged the king's image and raised questions about the future of the royal family.
Why is Princess Cristina appearing in court?
In early January, an investigating magistrate made Princess Cristina an official suspect in a major corruption case involving her husband, Inaki Urdangarin.
She has not been charged, and her lawyer has insisted she is innocent.
However the magistrate has now questioned her, at a court on the island of Mallorca, where the investigation is being run.
What are the allegations against her husband?
Between 2004 and 2006, a supposedly not-for-profit organisation called Noos, of which Inaki Urdangarin was president, organised a series of sporting events for the regional governments of the Balearic Islands and Valencia.
The central allegation is that Mr Urdangarin, along with business partner Diego Torres, hugely overcharged the two regional governments.
Allegedly, Noos received a total of 5.6m euros (£4.6m; $7.5m) of public money.
Both men deny any wrongdoing. Both are also official suspects in the case.
What are the allegations against Princess Cristina?
Princess Cristina is accused of tax fraud and money laundering.
She and her husband, Inaki Urdangarin, co-owned a company called Aizoon. The central allegation is that Aizoon received more than one million euros from Mr Urdangarin's Noos foundation, and that the princess and her husband used some of that money for personal expenses.
There are also questions about what Princess Cristina knew about the alleged wrongdoing of her husband. Her lawyer has said she is innocent.
How is the case affecting the popularity of Spain's Royals?
Inaki Urdangarin and Princess Cristina were banished from any official royal events or duties at the end of 2011, when the scandal broke. His name was removed from the royal website, and reports suggest the princess will not be staying at the Marivent Palace in Mallorca this weekend.
However the summoning of the king's daughter for questioning as an official suspect has made it harder for Spain's royal household to draw a line between the scandal and the royal family.
In private, royal officials now admit that it has damaged the prestige and credibility of the crown.
The slow-moving nature of the Spanish justice system and daily scrutiny in the Spanish press are a big problem for the royal family. The case has been running for three years and has not even gone to trial. But, to a certain extent, there has already been a trial-by-media.
How is King Juan Carlos seen?
Unpublished polls carried out by the royal household suggest King Juan Carlos' public standing has fallen significantly.
Officials insist that trust in all public institutions, not just the monarchy, has fallen, as Spaniards have felt the affects of the economic malaise.
However the king's standing took a big knock in April 2012, when he went hunting elephants in Botswana while his citizens suffered record levels of unemployment and austerity.
The trip only came to light because he fell and broke his hip, and while in hospital he was forced to make a public apology.
It also shone unwelcome light on the king's alleged affair with a German princess, who was with him in Botswana. His wife, Queen Sofia, visited him in hospital only briefly.
Does it look likely that King Juan Carlos could abdicate?
In a poll published by El Mundo newspaper in January, 62% of those questioned said they would like King Juan Carlos to abdicate - up 17% on a similar poll a year earlier. The royal household insists no decision has been taken and says it would be a "personal" decision for the king.
However, any decision to abdicate would not be the sole decision of the monarch because, for it to be possible, the Spanish parliament would have to approve a new law.
One commonly-held theory is that he cannot abdicate, because it would weaken the institution of the monarchy.
After a series of operations on his left hip, his health is also a factor. His son has replaced him on trips abroad.
Will the monarchy survive him?
There is concern in royal circles that young people in particular are indifferent or disillusioned with the monarchy.
In part, that is because they did not live through the country's transition to democracy, when King Juan Carlos was praised for helping to unite the country.
Royal officials point out that the popularity of Crown Prince Felipe has been rising.
For now, they are hoping that, at 76, King Juan Carlos's health and ratings will also improve. Maybe then, he might consider passing the royal baton to his son.