HSE apology after baby deaths in Portlaoise hospital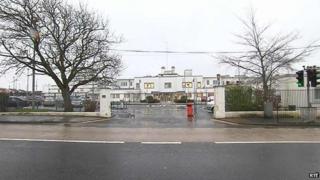 The Irish Health Service Executive (HSE) has apologised to the families of four babies who died in the same hospital over a six-year period.
It followed a TV investigation into the four deaths at Midland Regional Hospital in Portlaoise, County Laois.
The Irish state broadcaster, RTÉ said the babies all died during labour or within seven days of birth and that reviews found failings in their care.
The HSE and the hospital have accepted that there were "serious shortcomings".
The investigation was broadcast by RTÉ's Prime Time programme on Thursday.
'Unacceptable delays'
It alleged that a report into the death of one of the babies in 2008 concluded that there was failure to recognise when the baby was in distress during labour.
The report also found there had been an "inappropriate use" of a drug used to increase the rate of the mother's contractions during childbirth.
Following the 2008 death, a number of recommendations were made to improve patient safety.
However, Prime Time alleged that the hospital and the HSE failed to implement those recommendations in the cases of the other babies who subsequently died in similar circumstances.
In a statement, the HSE said: "There were unacceptable delays in completing reports, communicating with families, and in acting on recommendations.
"The HSE and the hospital apologises unequivocally to the families for these failings."
The statement added that Ian Carter, the national director of acute hospitals, has offered to meet the families "to discuss any concerns they have relating to the care they received or how they were treated".
The HSE statement added: "Portlaoise hospital's perinatal mortality rate is in line with maternity services nationally."
The HSE runs all of the public health services in the Republic of Ireland.