Fire destroys Dublin recycling plant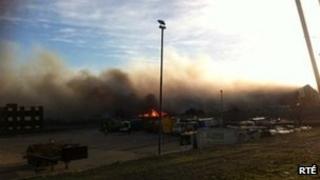 Fire-fighters are still at the scene of a major fire which destroyed a recycling plant in Dublin.
The blaze started shortly after 03:00 GMT on Saturday at the Oxigen Recycling Plant in Merrywell industrial estate, Clondalkin.
At one stage, 75 fire-fighters were involved in containing the blaze. The plant had been reduced to a smouldering ruin by Sunday morning.
Irish police said the cause of the fire was still unknown.
A forensic examination of the scene will be carried out later.
Police had advised residents to keep windows closed due to the "toxicity of the burning material and strong winds".