EU aims to clarify migrant benefit rules with guide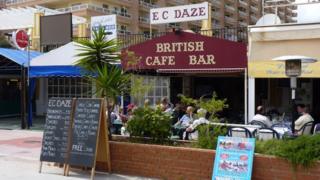 The European Commission has published new guidelines to help the 28 member states decide which EU migrants qualify for welfare benefits.
The guidelines aim to clarify the EU-wide "habitual residence test", which national authorities apply to migrants.
On 1 January the EU labour market was opened fully to Bulgaria and Romania, prompting calls in the UK and elsewhere for tighter welfare controls.
Brussels has taken the UK to court over an additional UK test for migrants.
The UK has a right-to-reside test which goes further than the EU habitual residence test. The UK restricts access to a number of social security benefits that would otherwise be available to those coming to the UK from another EU member state.
The case has been sent to the European Court of Justice, as the Commission believes the UK test to be unfair.
The large influx of East Europeans to the UK since 2004 has fuelled concern about welfare abuses amid widespread economic hardship.
Last week Poland protested after UK Prime Minister David Cameron called for migrants working in Britain to lose child benefits paid to their families back home.
EU Employment Commissioner Laszlo Andor has also complained about the UK government's stance on EU migrants.
Presenting the guidelines on Monday he said "mobile workers complement host country workers by helping to address skills gaps and labour shortages - in other words they tend not to take jobs away from host country workers".
Breaking EU law?
EU officials insist that member states should not raise new barriers to freedom of movement, a core principle of the union.
Social security rules and the size of welfare benefits vary greatly across the EU - a point acknowledged by the Commission.
The latest Commission guidelines say member states "may in principle provide (in their national legislation) for additional conditions for entitlement to a specific benefit or cover in a particular social security system". But the national criteria must be compatible with EU law and non-discriminatory, they say. Any national definition of "residence" also has to be in line with EU law.
The guidelines are intended to minimise disputes between member states over who should pay a particular benefit, or indeed whether a migrant is entitled to a benefit at all.
The guidelines give various examples of potential problem areas.
In one example, a UK married couple retire to Portugal and buy a property there, allowing their daughter and her family to move into their UK property. But they still argue that they are resident in the UK.
"In spite of their declaration of intent to the contrary, Mr H and his wife will have to be regarded as residing in Portugal," the guidelines say.