Fraud scandal forces L'Aquila mayor to quit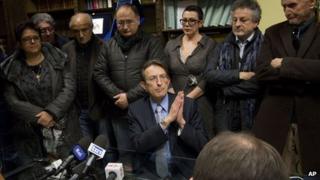 The mayor of the Italian city of L'Aquila, partially destroyed by an earthquake, has resigned because of a corruption scandal involving his team.
Massimo Cialente, who has not been implicated, said he had no legitimacy left. Four members of his administration are under house arrest - another four are under investigation.
They are accused of accepting bribes to award reconstruction contracts after the earthquake five years ago.
It killed more than 300 people.
In his resignation statement, the mayor said he had "no legitimacy left", and that he was tired and angry. "I am no longer useful in this town," he said.
Prosecutors suspect that several people took bribes worth nearly $700,000 (£425,000) in return for deals with construction companies. There are also allegations of false accounting worth another $1.5m.
Among the accused was the city's deputy mayor, who resigned last week while still maintaining his innocence.
If the corruption allegations are correct, leading council figures were seizing the chance to fill their pockets as the people of L'Aquila were still mourning their dead in their ruined city, says the BBC's Alan Johnston in Rome.
Two months ago, a European Parliament inspector expressed concern at reports that some money spent on building homes in L'Aquila had gone to firms with links to the Mafia.