Cameroon gunmen free French priest Georges Vandenbeusch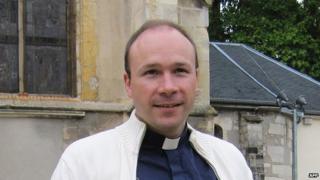 A French Catholic priest kidnapped in Cameroon on 13 November has been released, French President Francois Hollande said in an official statement.
Fr Georges Vandenbeusch, 42, was kidnapped by gunmen in northern Cameroon near the border with Nigeria.
The armed Nigerian Islamist group Boko Haram, which operates in the area, later said it was holding him.
Mr Hollande thanked the authorities in Cameroon and Nigeria for their help in getting the priest released.
His message expressed special thanks to Cameroon's President Paul Biya.
A French diplomat quoted by the AFP news agency said the priest was released early on Tuesday in northern Cameroon. "He is now on a plane with the Cameroonian army and will be handed over to the French ambassador in Cameroon," the source said.
There was no further explanation about his release.
Mr Hollande said French Foreign Minister Laurent Fabius would fly to Yaounde in Cameroon to bring Fr Vandenbeusch back to France as soon as possible.
The president added that six French nationals remain hostage in Mali and Syria, and he expressed support for their families, saying he would strive to win their release.
Earlier this year, seven members of a French family called Moulin-Fournier - four of them children - were abducted by Boko Haram in northern Cameroon and held hostage for two months.
Boko Haram was paid more than $3m (£2m) before releasing the family, according to a confidential Nigerian government report seen by Reuters news agency. There was no official confirmation of that ransom.