Pussy Riot: Punk band members remain defiant after release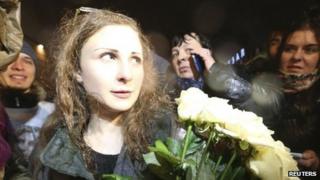 The early release of the last two Pussy Riot protesters did not come out of the blue.
It had been expected that Maria Alyokhina and Nadezhda Tolokonnikova would be back with their families in time to celebrate New Year.
As mothers of young children, they fell under the terms of the prisoner amnesty which was recently agreed by the Russian parliament.
What no-one knew was whether they would be chastened or emboldened by their incarceration experience.
'Not sorry'
Russian President Vladimir Putin certainly seemed to hope their time in jail would have taught them a lesson.
At his end-of-year press conference he said he was not at all sorry they had been imprisoned.
His only regret was their "outrageous behaviour - a disgrace to their femininity".
But both Maria Alyokhina and Nadezhda Tolokonnikova marched back into the spotlight as defiant as ever.
Even the fact they were being freed was something to be up in arms about.
It was, they both said, a hoax: a cynical attempt by President Putin to buy better publicity for Russia ahead of the 2014 Winter Olympics in Sochi, and it should not deter European leaders from staging a boycott.
They were still punk rockers all the way, performance artists who saw every aspect of their lives as a facet of protest.
Being driven away from the prison in a black Volga car, once a symbol of Russian officialdom, was "a conceptual release", noted Maria Alyokhina, smiling wryly.
"Hold on to your seat belts, everything is just starting," she added, claiming that given the chance, they would have sung the irreverent song in their famous cathedral stunt to the end.
Bravado
There would be new projects, she promised, using the same methods.
So are we now to expect more profane performances from them, deliberately designed to shock and annoy the Russian authorities?
They can certainly rely on upsetting people in provincial Russia.
Many passers-by grabbed for a word by television crews on the streets in the central Russian and Siberian cities where they were imprisoned were clear that the two women deserved their sentences for such sacrilegious behaviour in a Russian church, and should probably have served their time in full.
Only amongst people questioned in Moscow was there a smattering of sympathy for them.
But for all the two women's show of bravado, it may be that they will pause before risking a new spectacular protest.
They do now know what the consequences of poking fun at the Russian state can be.
"I saw the state from within, I saw this totalitarian machine as it is," said Nadezhda Tolokonnikova thoughtfully.
"Russia is built on the model of a penal colony."
And the Russian authorities may be calculating that so long as Pussy Riot does not try to stage another high-profile public disturbance before the Sochi Olympics in February, their presence at large can be tolerated.
At liberty they will attract less attention than as political prisoners.
All the same, their high spiritedness is in marked contrast to the behaviour of that other recently released Russian detainee, the former oligarch turned political prisoner, Mikhail Khodorkovsky.
Deal or no deal?
Being whisked straight from the wintery darkness of northern Russia and the grim austerity of a penal colony into the bright lights and festive cheer of a German capital city preparing for Christmas must be a bewildering experience.
But clearly Mr Khodorkovsky's carefully weighted answers at his press conference and in his long BBC television interview reflect something else - an awareness that there are limits that must not be overstepped, areas where blunt comment is not advisable.
So did he do a deal?
Well, he more or less admitted as much. He was clear that he was not going to get involved in Russian politics again.
He knew there would be legal problems for him if he tried to return to Russia right now.
And he knew if he tried to send money to fund the political opposition in Russia, those who received his money risked being prosecuted.
And yes, there had been some sort of understanding worked out between him and the Kremlin.
Battle of wills
But when it came to the 10-year battle of wills between himself and Mr Putin, he was less willing to give ground.
He did not accept that any concessions he had consented to in order to be released meant that the Russian president had won this round.
Rather, he said, both sides had agreed to compromise.
And in the longer term, maybe he has not given up his ambition for some sort of leadership role, even if not political.
He plans to campaign for political prisoners in Russia, he said, and he will put his energies into encouraging civic awareness, to try to make ordinary Russians less apathetic and more engaged in what happens to their country.
And he still thinks his work and his profile can make a difference.
If the passive majority in Russia could be reduced from 60% to 50%, and if the active part of society could be increased from 15% or 20% to 30%, he argued, then Mr Putin would have to make changes.
"The aim of the powers-that-be in Russia was for me to end up being forgotten," he told the BBC programme Hard Talk. "But it's quite clear I am not forgotten. And I remain a potentially serious problem for them".