Italian coastguard reaches stricken migrant ship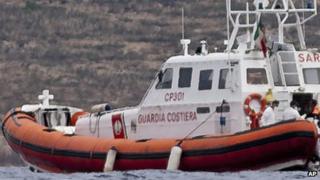 The coastguard have reached a small boat packed with migrants adrift off the coast of southern Italy.
They say about 120 Syrian migrants were picked up from the vessel, which had encountered rough seas.
Large waves and strong winds meant that, for 24 hours, coastguard and naval craft had only been able to shadow it.
In October, hundreds of migrants drowned in two shipwrecks near the Italian island of Lampedusa.
The boat was spotted on Sunday after a satellite phone call from an Egyptian national on board, AFP reports.
The protracted operation was carried out in waters south of the province of Calabria.
Two rescue speedboats were eventually able to move in and pick up the exhausted passengers, among them many women and children.
They were then transferred to a larger coastguard vessel which was to take them to the Italian mainland.
Those on board the boat were following a route that brings thousands of African and Arab migrants fleeing war and poverty to what they hope will be better lives in Europe, the BBC's Alan Johnston reports from Rome.
But they often attempt the journey in dangerous and unseaworthy boats.
In October more than 400 people drowned in two separate incidents off the Italian coast.
Many of those were from Eritrea and Somalia, but the civil war in Syria has also resulted in an increased flow of migrants trying to reach Europe.
Italy has called for help from other EU states to deal with the number of migrants attempting to make the crossing.
The European Commission has asked for more resources for joint sea patrols, and more co-ordination with countries that migrants embark from, such as Libya.