Pope's personal assistant to oversee bank reform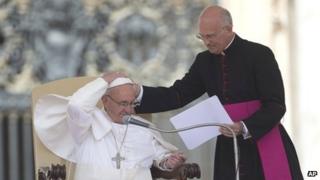 Pope Francis has named his personal secretary to supervise the activities of the Vatican Bank in his mission to clean up its image.
Monsignor Alfred Xuereb will oversee the activities of two commissions set up earlier this year following a series of financial scandals.
A Vatican statement said the prelate was tasked with "keeping his eye on the committees".
He would inform the Pope "on their working procedures," it continued.
Since taking office in March, Pope Francis has embarked on a number of changes to clean up the Vatican and root out corruption.
This has included making the bank - which has 114 employees and $7.1bn of assets - more transparent.
In August he issued a decree designed to combat money-laundering and prevent any financing of terrorism within the bank, formally known as the Institute for Works of Religion (IOR).
He also set up a commission to investigate the bank and report back to him personally.
It followed the arrest in June of a senior cleric, Monsignor Nunzio Scarano, on suspicion of money laundering.
He and two others were arrested by Italian police on suspicion of trying to move 20m euros ($26m; £17m) illegally.
Pope Francis has also raised the prospect that the bank could be handed over to commercial banks or closed down unless it can reform itself.
In October the bank published its first annual report in its 125-year history.