Ajax Amsterdam fan 'seriously injured' in fall from stands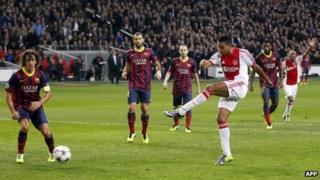 An Ajax fan has been seriously injured as he fell from the stands celebrating a goal in the team's Champions League game against Barcelona.
The man fell around 5m (16ft) after Danny Hoesen scored for the hosts just before half-time at the Amsterdam Arena, according to Dutch police.
He suffered serious head injuries and was taken to hospital, but his current condition is unclear.
The match ended 2-1 keeping Ajax's hopes for qualification alive.
Images taken by people in the arena appeared to show the man lying on the track around the pitch.
Two ambulances arriving to help the unidentified supporter collided with each other, according to reports, before one took him away.
Hoesen's goal put Ajax 2-0 ahead in their Group H match.