Coalition talks open in Germany between Merkel and SPD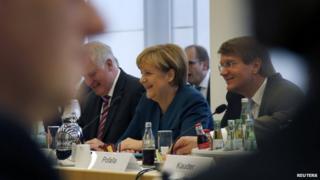 Formal talks on forming a grand coalition government for Germany have finally begun in Berlin, more than a month after the election.
Chancellor Angela Merkel, whose Christian Democrats narrowly failed to win outright victory, attended the meeting with the Social Democrats.
Negotiators are tasked with producing an agreed programme for government, and the talks may continue for a month.
Mrs Merkel's previous ally, the Free Democrats, failed to win any seats.
There is expectation that the new government will be formed before Christmas. In the meantime, Mrs Merkel continues to lead her existing government as a caretaker cabinet.
The likelihood is a slight move of the government to the left, with more government spending and a more generous attitude towards euro countries in trouble, the BBC's Steven Evans reports from Berlin.
But it would not be a major shift, he adds. Chancellor Merkel would remain very much in charge, he says.
Germany is the EU's most populous country and has its biggest economy, making it a pivotal member of the eurozone.
The Christian Democrats (CDU) and their Bavarian sister party the CSU agreed with the Social Democrats (SPD) last week to launch negotiations, after CDU consultations with the Green party yielded no results.
The CDU/CSU took about 41.5% of the vote, the SPD won 26%, the former communist Left Party 8.6% and the Greens 8.4%.
One key SPD demand is the introduction of a national minimum wage, which they want to set at 8.5 euros (£7.2; $11.5).
Mrs Merkel served her first term as chancellor at the head of a previous grand coalition with the SPD from 2005 to 2009, but the parties were more closely matched then in the parliament, or Bundestag.
As the leading party in 2013, the CDU/CSU has 45 delegates at the talks, to 30 for the SPD.
However, compromises will have to be reached that will satisfy SPD members, who have been promised a final vote on the coalition deal.