France ministers told by Hollande to 'choose staycation'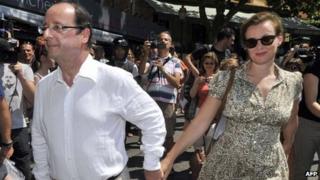 French President Francois Hollande has told members of his cabinet to take a two-week break next month - but apparently not to venture abroad.
With his government buffeted by declining poll ratings and scandal, the word has gone out to his ministers to stay visible and be prepared.
Mr Hollande and Prime Minister Jean-Marc Ayrault may themselves take only a week off work, reports say.
The president is unlikely to repeat last summer's break in southern France.
He spent the holiday with partner Valerie Trierweiler at the presidential retreat at Fort Bregancon being pursued by journalists and has been quoted as telling friends: "Bregancon is like death" and "Bregancon is like a prison".
The original plan behind his stay at Bregancon was to establish a contrast with his predecessor, Nicolas Sarkozy, whose first presidential holiday was spent in the US state of New Hampshire.
However, paparazzi photos of Ms Trierweiler in a bikini upset the first couple and the trip did little for the president's poll ratings, which have continued to fall.
An already austerity-conscious government has been embarrassed by a tax fraud scandal surrounding ex-Budget Minister Jerome Cahuzac, which prompted Mr Hollande to demand that every minister revealed details of their personal wealth.
This summer, Mr Hollande is thought to be considering a stay at La Lanterne, an elegant hunting lodge replete with swimming pool and tennis court near Versailles normally reserved for the prime minister.
However, according to the Journal du Dimanche, the president also aims to go on short trips without necessarily informing the media of his destination.
He spent Saturday in his Correze constituency, visiting former President Jacques Chirac and his wife, Bernardette.
The prime minister is already known to enjoy his holidays in a Volkswagen camper-van, bought in 1988 and worth an estimated 1,000 euros (£860).
"It'll be worse than last year," an unnamed minister was quoted as saying by Les Echos.
The ministerial summer break will begin on 2 August, after the last cabinet meeting before the recess.
The financial daily said only Defence Minister Jean-Yves Le Drian was expected to travel abroad, to Spain for a few days.
Otherwise Social Affairs Minister Marisol Touraine was due to stay at her house in Burgundy and a number of other ministers were expected to spend the break in the south of France.