CJD alert at Dublin hospital for up to 20 surgery patients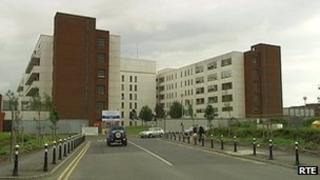 Up to 20 people who had surgery at an Irish hospital could be at risk of Creutzfeldt-Jakob Disease after one patient was diagnosed with CJD.
The fatal brain-wasting disease can be passed on through contaminated surgical instruments.
A patient with CJD had surgery in Dublin's Beaumont Hospital within the last month, but was not diagnosed with the disease until the end of last week.
The Irish Health Service Executive said the risk to patients was very small.
The surgical instruments used in subsequent operations were sterilised, but in the case of CJD, normal sterilisation techniques are not sufficient and special measures must be taken.
In this case, the special measures were not used as the presence of CJD was not known until weeks after the patient's operation.
Dr Kevin Kelleher, head of protection at the HSE, said they believed 10 to 20 patients who had surgery in the same hospital within the past four weeks could have been put at a slightly increased risk of contracting the disease.
The HSE opened a helpline for patients on Friday morning, but Dr Kelleher said they intended to contact all those affected by the end of the day.
He told the Irish broadcaster, RTE: "We will have to break that news to them and we will also be explaining what that means for them into the future.
"It means they have a slightly increased risk of getting CJD, and we also have to tell them about certain precautions they will then have to take themselves to prevent any possible further transmission of the disease, if at all.
"But, the risk for them is not much more than the risk that is for us, within the general population," Dr Kelleher said.
The HSE representative added that one person in a million contracted the disease each year, meaning that there were only four or five new cases annually in the Republic of Ireland.
"So the risk is very, very low anyway, their risk is slightly above that," he added.
Dr Kelleher told RTE that the patient was diagnosed with CJD after a "routine review of tissue" following their operation.
He would not give any more details about the patient or confirm what type of surgery had been carried out on them.
The doctor said once the diagnosis had been confirmed, staff then worked to identify the surgical instruments that had been used on the patient, and which were then subsequently used on other patients.
In a statement, the HSE said: "Beaumont Hospital is receiving advice from the Irish Panel on TSE (CJD) and from world experts in the UK, who have dealt with similar cases in the UK and worldwide."