Push for democracy in Burma amid rapid transition
15 July 2013

From the section

Europe

comments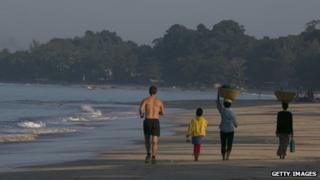 Not for the first time, I'm straying off topic today - and back to a country I once reported. Burma, or Myanmar, has changed a lot in the five years since I left the region. What follows is a report which first appeared on From Our Own Correspondent, based on a recent family holiday.
It wasn't much of a disguise: a baseball cap, sunglasses, and a few days worth of stubble.
And sure enough, the man from military intelligence spotted me as I came through immigration.
It was May 2008 - my last trip to Burma's largest city, Rangoon.
There was a shout. Then a firm hand on my shoulder. The authorities stuck me on the next plane out of the country.
I'd been on the regime's blacklist for some years because of my reporting. At the time, it felt like Burma was buried beneath an immoveable heap of political repression and economic misrule.
But countries can change surprisingly fast.
Time warp
A few weeks ago, I flew back into Rangoon airport for a holiday with my family.
A curt email had found its way to me from the Burmese presidency, announcing that more than 1,000 blacklisted foreigners and exiles were now free to return.
The drive into the city took nearly an hour.
For decades military rule has kept Burma in a sort of time warp - attractively so, if you're a tourist looking for uncluttered streets and "traditional" scenes.
But you'd better hurry if you still want to catch any of that, because money is now pouring into the country, and transforming it fast: traffic, shopping malls, etc.
The headlines here used to be full of turgid claims about what some general or other was up to.
Now they're salivating over the bidding war between rival international cell phone companies - all hoping to hit the jackpot and get a license to operate in one of the few remaining countries on earth where almost nobody has a mobile.
We checked into a brand-new hotel in the centre of Rangoon and went to find some old friends.
Zarganar, sadly, was out of town. He's Burma's most famous comedian - a devout fan of Benny Hill - and a dissident who has spent years in jail for mocking the military regime.
They let him out two years ago, as part of a larger amnesty of political prisoners.
These days Zarganar is furiously busy - not so much with the jokes, but with the messy politics of a country in transition.
You may have heard in the news about the horrific attacks on members of the Muslim minority in Burma. It reminds me of nationalism that surged to the surface in Russia after the collapse of the Soviet Union.
Changes afoot
It is a delicate matter, said Koh Jimmy, over lunch.
Jimmy and his wife, Nilar Thein, are a remarkable couple. They were student leaders who challenged the military back in the 1980s, and have been in and out of prison ever since.
I used to speak to Nilar by phone when she was on the run - hiding in safe houses, desperate for a glimpse of the infant daughter she'd been forced to leave with her in-laws. Nilar was caught in 2008 - and only released along with her husband last year.
Her voice hasn't changed. She still has the calm, almost dreamy delivery of someone who has learned the hard way how to keep her emotions in check.
Nilar and Jimmy, like Zarganar, are now busy trying to help steer their country towards full democracy.
You can still sense their suspicion of authority - their reluctance to join the political mainstream. Instead their focus is on educating a population still unsure about its rights and responsibilities.
After what we've been through, we understand the importance of human rights, said Jimmy when I asked him about the killing of Muslims by members of the Buddhists majority.
But he worried too about the dangers of Islamic extremism - of schools preaching jihad - and of the threat posed to Burma's sovereignty.
We want an open society, he said. But we have a long road ahead of us.
A few days later, we were sitting on the shores of Inle Lake, in the Shan mountains east of Mandalay.
Sunset, and a bottle of rather wonderful white wine, produced by a Frenchman who runs a vineyard nearby.
It was the hot season. Most of the tourists had gone. The lake - with its floating vegetable gardens, fishermen, and villages on stilts - was a darkening strip of silver.
In the aftermath of World War II, Burma was widely regarded as the region's most promising nation. It has forests, minerals, ports, and a handy location between India and China.
Things haven't worked out so well. But as our tour guide ushered us into our boat for a gentle cruise around the lake, he gave a big grin. Business is good these days, he said. Change is good.